Keeping pace with the times! On November 17, an investment Startup Battle from the Blockchain, Cryptocurrency, Artificial Intelligence and Chatbots fields took place in the very heart of Ukraine. Fourteen teams of intellectuals fought for the right to be called the best, as well as for the attention of investors and experts.
The judging panel of the Startup Battle in Kiev consisted of: Vadim Rogovskii - CEO of iQSpace, Vadim Gorenko - CEO & Founder of StartUpStart incubation program, Sergei Skabelkin - co-founder of FinTech Cluster in Ukraine, Vladimir Gurinenko - Digital-marketing expert, Svetlana Malevannaia - CEO of OLANS GROUP consulting company, Pavel Kravchenko - founder of Distributed Lab, Lasha Antadze - business consultant, Alexander Soroka - CEO and founder of Startup.Network, Anatolii Kaplan – co-founder in ForkLog - Bitcoin, blockchain and crypto-technologies, Kir Kelevra – cryptotrader, cryptocurrency and blockchain technologies expert, Yevgenii Netreba - analyst of Chernovetskyi Investment Group; Vita Kravchuk - partner in Technology Companies Development Center.
During the Entrepreneurs' section of the 64th Startup Battle a panel discussion on the topic 'Specific character of investing in cryptoprojects' was held; participants of discussion included Svetlana Malevannaia, Kir Kelevra, Andrei Velikii, Sergei Skabelkin, Anatolii Kaplan and Oleg Kudrenko.
The experts told about what an entrepreneur should pay attention to when positioning his cryptoproject, how to distinguish a pyramid scheme from the actual business associated with blockchain and other digital technologies, how to organize and protect your cryptobusiness to be able to earn legally, and how to get investors onboard for a crypto-startup. You can find the details in our Live stream.
Voting results:
According to the number of the experts' votes the 'Ambisafe' investment project became the leader with an average score of 4.7. In general, the top list is as follows:
First place: Ambisafe – 4.7
Ambisafe is a platform that allows you to exchange any type of asset for blockchain in a few minutes and add it to cryptocurrency exchanges worldwide.
Second place: Cryptonomica.net , I1H and Umnobot – 4.3;
Third place: Wolfchange – 4.1;
Fourth place: Cardiomo – 4.0;
Fifth place: Tagency – 3.6;
Sixth place: Attic Lab and CyberMind Technology – 3.4;
Seventh place: Suber and lexnet.io – 3.0;
Eighth place: Chatfor – 2.9;
Ninth place: BTC-Alpha LTD and udonors – 2.7.
Guest voting:
First place: BTC-Alpha LTD – 4.6
BTC-Alpha LTD is a stock exchange where anyone can buy or exchange bitcoin. According to the developers, their advantage is a simple and user-friendly interface, which is clear even to a housewife.
Second place: Ambisafe – 2.6;
Third place: udonors - 2.4;
Fourth place: Tagency - 2.2;
Fifth place: Cryptonomica.net, Cardiomo, lexnet.io - 2.1;
Sixth place: CyberMind Technology, Suber - 2.0;
Seventh place: I1H, Wolfchange - 1.9;
Eighth place: Umnobot - 1.8;
Ninth place: Attic Lab - 1.7;
Tenth place: Chatfor - 1.6.
Partners of the event prepared a number of nice gifts for the participants, which were presented to the best projects in their opinion. For example, the certificates for legal services for UAH3000 from the OLANS GROUP company were presented to the Ambisafe and Umnobot teams, certificate for UAH4 000 from the Green Web digital marketing agency and a universal certificate 'A set of emotions: Rock' from the Emozzi company were given to BTC-Alpha LTD.
Moreover, the project that gained the most of the experts' votes – Ambisafe – received a special prize from the organizers – the right to participate in a new show out of the competition, the announcement of the show will appear on the Startup.Network webpage soon.
We hope that it was a good experience for all the participants; that they finalize their projects and next time will be the best! And the winners of the 64th Startup Battle – 'Ambisafe' and 'BTC-Alpha LTD' investment projects – are invited to take part in the Grand Spring Final of the Startup Battle out of the competition and absolutely for free.
Startup.Network also expresses profound gratitude to the partners of the event - iGuards.net and IDF Reforms Lab.
​​​​​​​
We have already started working on the search for new promising investment ideas. Welcome! We will show you how to invest and what you need to invest in!​​​​​​​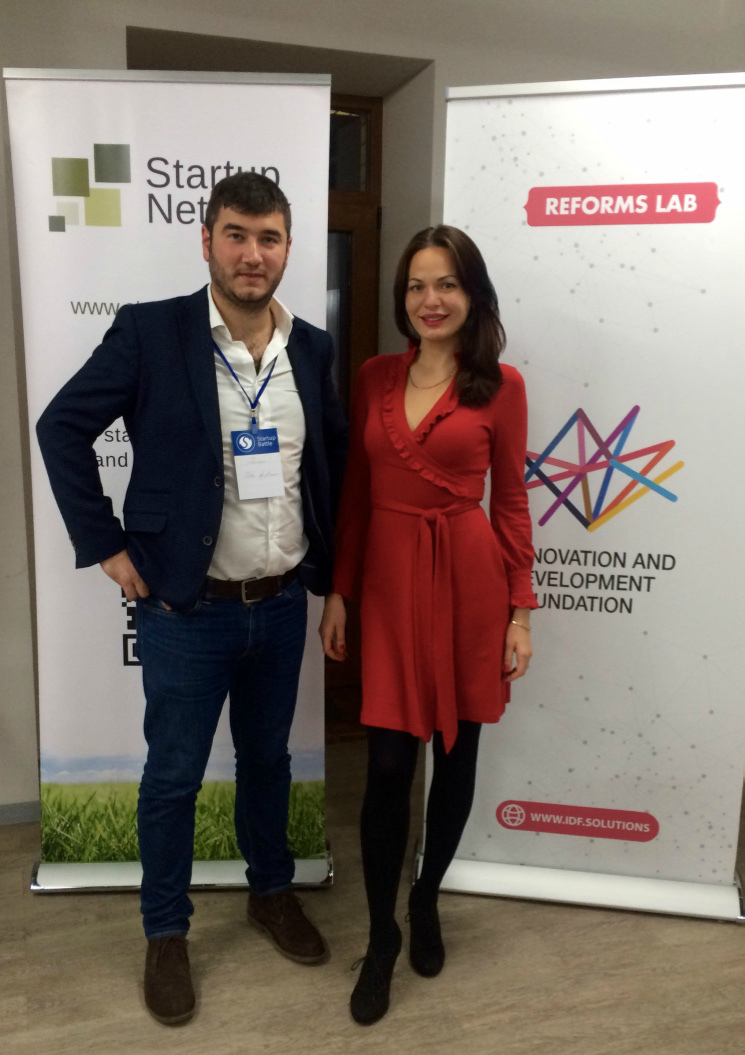 ​​​​​​​